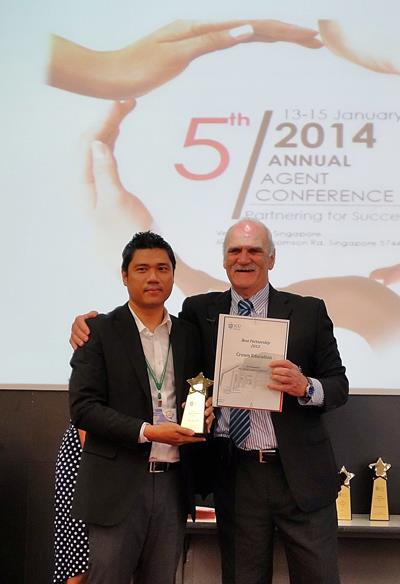 THE LEADING EDUCATION CONSULTANCY SERVICE IN MYANMAR
Education has always been key in the growth and development of our society. Nowadays, the global economy is being driven by knowledge-based industry, and thus, education has become even more important in every country's economic growth.
CROWN EDUCATION was established in 2007. It is Myanmar's leading education company that has won international awards every year since its inception. Being an established education consulting company for many years, CROWN Education is proud to be one of the building blocks in constructing our country's education infrastructure and uplifting education standard.
Founded by U Aung Kyaw San @ James, having over 15 years' experience in international education, CROWN Education has already helped over 5,000 students to study in well-known countries for oversea study such as USA, UK, Australia, Switzerland, Canada, New Zealand, Singapore, Thailand, Japan and more. 
ကျောင်းသူကျောင်းသားများ ပညာရေးဆိုင်ရာလမ်းညွှန်မှုများ၊ ဘာသာရပ်ရွေးချယ်ခြင်း၊ တက္ကသိုလ်များ၊နိုင်ငံများရွေးချယ်ခြင်းနှင့်ပတ်သက်၍
ဆုံးဖြတ်ချက်မှန်ကန်စွာချမှတ်နိုင်ရန် CROWN Education ၏ ပညာရေးအတိုင်ပင်ခံများမှ လမ်းညွှန်ကူညီဆောင်ရွက်ပေးရန်အသင့်ရှိကြပါသည်။
တက္ကသိုလ်ကောလိပ်များလျှောက်ထားပါက၊ မည့်သည့် အေဂျင်စီအဖွဲ့အစည်း၏အကူအညီကိုမျှ မရယူပဲ၊ ကိုယ်တိုင်စုံစမ်းလျှောက်ထားခြင်းကို
အားပေးလိုပါသည်။
မိမိတို့လျှောက်ထားလိုသည့်ကျောင်း၊ဘာသာရပ်၊နိုင်ငံသည် CROWN Education နှင့်ချိတ်ဆက်ထားသည့် တက္ကသိုလ်၊ကောလိပ်များဖြစ်ပါက၊ 
ကျောင်းဝင်ခွင့်နှင့်ပတ်သက်သည့် နားမလည်သည့်ကိစ္စရပ်များ၊ လေ့လာသင်ယူသင့်သည့်ဘာသာရပ်များ၏ကွဲပြားချက်များကိုသိရှိနားလည်စေရန်နှင့် 
သက်ဆိုင်ရာနိုင်ငံအသီးသီသို့ ကျောင်းသားဗီဇာလျောက်ထားရာတွင်လိုအပ်ချက်များ၊ နေရေးထိုင်ရေးကိစ္စများအတွက် မည်သည့်ဝန်ဆောင်ခ၊
အခကြေးငွေမှပေးစရာမလိုပဲ (မည်သည့် ဝန်ဆောင်ခ၊အခကြေးငွေမှပေးစရာမလိုပဲ) ကူညီဆောင်ရွက်ပေးနိုင်ပါသည်။
Crown Education's

Achievements & Awards

BEST SINGAPORE EDUCATION SPECIALIST AWARD (Myanmar)
SINGAPORE EDUCATION SPECIALIST AWARD (2009)
OVERALL BEST SINGAPORE EDUCATION SPECIALIST
(Asia-Pacific Region)

BEST PARTNERSHIP  2012

BEST PARTNERSHIP  2013
AGENT OF THE YEAR 2014
BEST PARTNERSHIP  2015 & 2016 (James Cook University
BEST NEW AGENT AWARD  2015 (SIM Global Education)
STAR PERFORMER AWARD 2015 (Nanyang Institute of Management)
SILVER ACHIEVEMENT AWARD 2014
GOLD   ACHIEVEMENT AWARD 2015
 
TOP AGENT AWARD MYANMAR 2016
TOP STUDENT RECRUITMENT PARTNER 2016
TOP Performance award 2016 (PSB Academy)
BEST USA AGENT AWARD 2015 (Navitas USA)
ELITE PARTNER 2015 & 2016 (Kaplan Higher Education Academy)
Superior performance 2016 (Webster university)
THE EXCELLENCE AWARD 2017 (SIM GLOBAL EDUCATION)
MOST IMPROVED BUSINESS PARTNER 2017 (WESTERN SYDNEY UNIVERSITY)
EXCELLENCE AWARD 2017 ( SAN MATEO COLLEGES, USA)
SME OF THE YEAR 2018 (MYANMAR EMPLOYER AWARDS)
THE EXCELLENCE AWARD 2020 (SIM SINGAPORE)